Hope, perseverance, courage,words and bodies by the 75 billions of refugees and displaced people around the world who suffer daily. They have lost homes, families, their way of lives, increasingly abused by the feeling of forgotten generation. The Refugee Olympic Team had brought the world attention to the athletes itself but also the refugees around the world.
The Refugee Olympic Team was first appearance in Rio Olympic 2016, in Brazil. The International Olympic Committee (IOC) President Thomas Bach announced that the IOC would choose 5-10 refugees to participant at the Rio Olympic under the name of "Refugee Olympic Team (ROT)", in response to the would refugee crisis.
IOC President Bach announced the list of refugee teams.(Credit :Refugee Olympic Team IG)
This year, 29 althties form 11 countries From Syria, Sudan, Iraq, Iran, Congo, Venezuela and other countries. They were trained in 13 asylum countries, and they received funding from the Olympic Scholarships for Refugee Athletes from the International Olympic Committee to joining the IOC "Équipe Olympique des Réfugiés" (EOR) to compete in Tokyo Olympic 2020, allows all the extremely top ranked athletes to have a fair chance to shine in the Olympics stage just like others.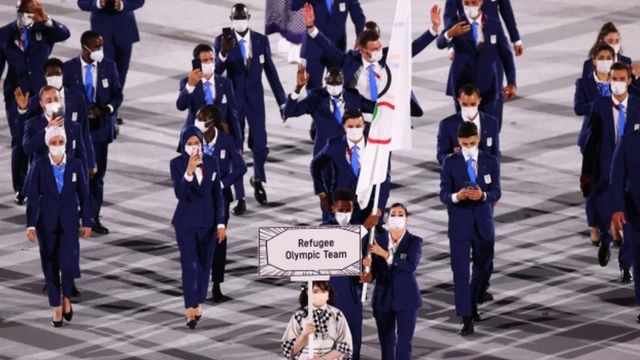 The Olympic refugee delegation took part with the Olympic flag(Credit :BBC)
They are completing in 12 events including track and field, swimming, cycling, judo, wrestling, badminton, weightlifting, boxing, shooting, and karate. Kimia Alizadeh, who won the bronze medal in the Taekwondo competition last year and became Iran's first female Olympic medalist, said at the beginning of this year that she was oppressed by her home country and decided to go to Europe and eventually changed her status as a refugee to appear on the Olympic stage.
#HOMEISHONGKONG #TOKYOOLYMPIC2020
#REFUGEEOLYMPICTEAM
MIGO Menswear Hong Kong Design
Reference: 
https://www.bbc.com/zhongwen/trad/57984578
https://www.upmedia.mg/news_info.php?SerialNo=119212
https://cn.nytimes.com/culture/20160805/tegla-loroupe-gives-refugee-olympians-a-lesson-in-hope/zh-hant/
https://www.nrc.no/perspectives/2021/now-he-is-running-for-a-medal-in-tokyo-olympics/