You see them everywhere in Hong Kong, they are cheap, tasty and a symbol of Hong Kong culture. You might have guessed it, the famous Egg Tart or 蛋撻 (daan2 daat3). The famous dessert have made it onto Hong Kong intangible cultural heritage list. The dessert is a clear symbol of the mix of western and estern culture.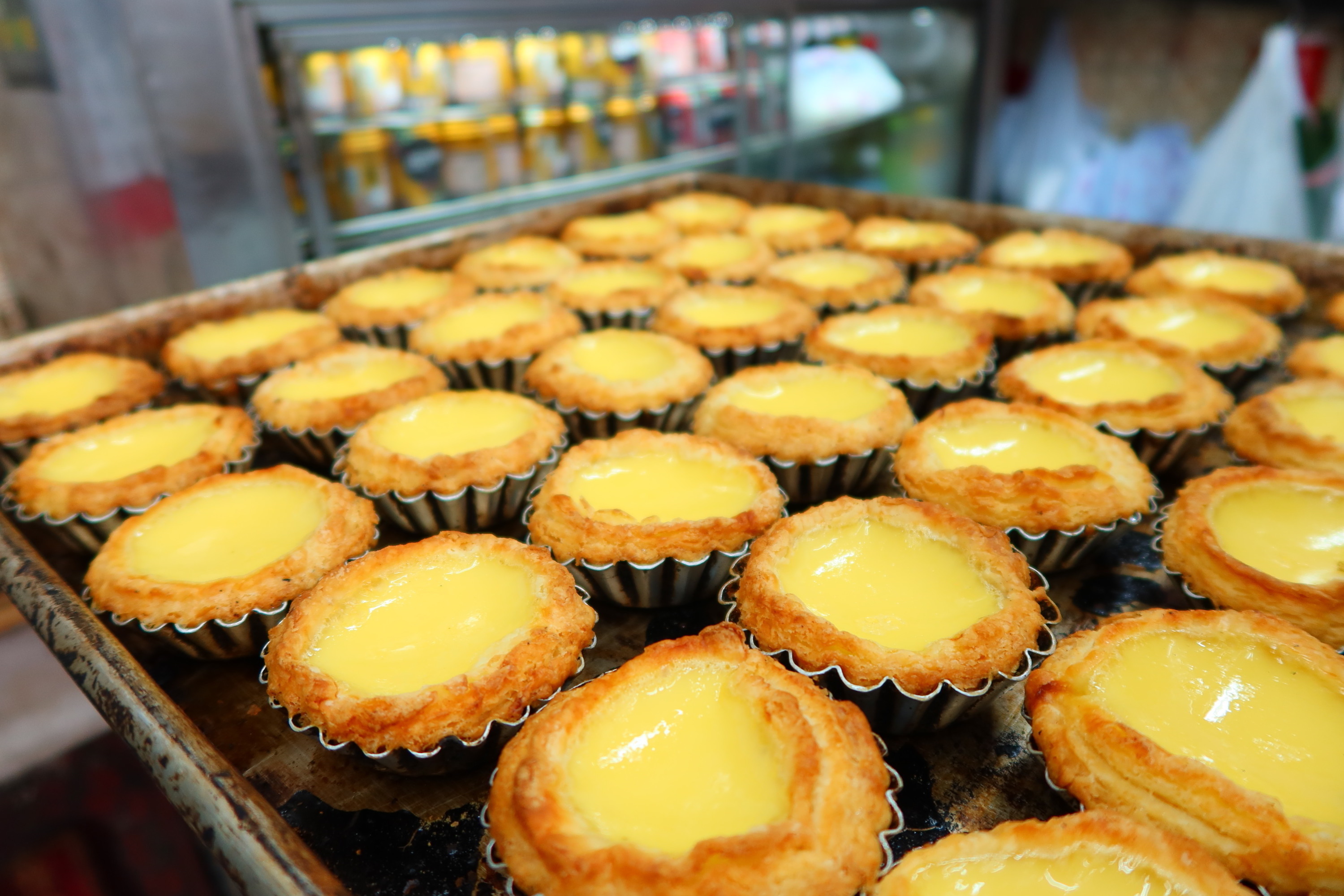 Picture: Timeout HK
History
It is said that the egg tart arrived Hong Kong around 1940s. The tart was introduced to Hong Kong by Guangzhou. In the beginning the egg tart was mostly served in high+end Western restaurants, which made them mostly available only for the elite. However, in the 1960s the cha chaan tengs started to serve the tart and it became a hit among the working class as well. They have ever since been a huge part of the local food culture in Hong Kong, and have become a symbol of Hong Kong. There is merchandise with the egg tart, which symbolises how deeply rooted in the city.  
Difference between puff pastry, shortbread pastry and macanese egg tarts
In Hong Kong theres two traditional types of egg tarts, puff pastry and shortbread. There is a discussion among Hong Kongers which one is better, but both is amazing, right? Even though the pastry could be either two, the filling is the same, the yummy egg custard! 
It is however, important to note that there is a cousin of the two versions of egg tart. The cousin is the Portuguese+Macau style egg tart. Like the name say it is a Portuguese inspired egg tart, with a more flaky and crispy pastry and it look more like a creme brulee at the top. 
Where to get them 
Egg tarts is readily available anywhere in Hong Kong. Every bakery will have them, and as we know there is LOTS of bakeries in Hong Kong. There is a wide range on the price of the tarts, depending on where you get them. This is because they are sold in any type of bakery, anything from local, old bakeries to luxury hotel bakeries. Some famous places to get your egg tart fix: 
Tai Cheong Bakery
Honolulu Coffee Shop
Bakehouse
Pie and tart
Kam Wah Café
Hoover Cake Shop
Sai Kung Cafe & Bakery
Modern flavours
Even though the traditional egg tarts is amazing itself, theres many new and modern flavours emerging around the city. One chain that have made the egg tart popular around Asia is KFC. They are also innovative when it comes to flavours, like adding the famous fruit durian, making a special valentines day egg tart and many more. 
Picture: KFC
Picture: KFC
How do you like your egg tarts? Classic? Modern? Puff pastry or short bread? Let us know in the comments below! 
#HOMEISHONGKONG #eatwithmigo