Rule 50 of the Olympic Charter is a clause prohibiting the expression of political opinions. It has been in practice for years by the IOC to ensure that no such act is repeated. It states that, "no form of advertising or other publicity shall be allowed in and above the stadia, venues and other competition areas which are considered as part of the Olympic sites. 
With the "Black Lives Matter" movement sweeping the sports circles of many countries (mainly Western countries) in recent years, the IOC has faced pressure to amend Rule 50. So the Athletes Committee under the IOC conducted a survey last year. The survey results showed that 70% of the interviewees considered it inappropriate to express political opinions on the sports court or at the opening/closing ceremony. Those who did not agree to express their political opinions on the podium were also as high as 67%. Based on the investigation, the International Olympic Committee insists that it has the right to punish athletes who express political views on the podium and arena. However, the latest guidelines clearly indicate that if athletes express their political opinions in official press conferences, "mixed areas" and media (including traditional media and new media), the IOC will not interfere. 
Due to the pressure of reviewing Rule 50 on the Black Lives Matter movement, anti-discrimination related words/messages such as "diversity" and "inclusiveness" should also be included in the oath of this year's Olympics. 
4 historical moment of the history of protests in Olympics 
1906: Peter O'Connor climb up the flagpole to wave Irish flag
At the 1906 Olympic Games in Athens, Irish track and field athlete Peter O'Connor carried out one of the first and most famous acts of political protest in Olympic history to distinguish himself as a Irishmen as well as the national identity of Irish as a country.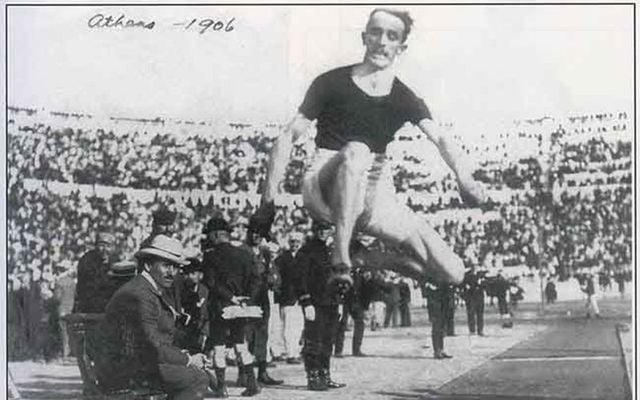 @Peter O'Connor competing in the 1906 Olympics. IRISH NATIONAL ARCHIVE

1968: Tommie Smith and John Carlos raise their fists with black gloves in the Black Power salute
Tommie Smith and John Carlos, gold and bronze medalists in the 200-meter run at the 1968 Olympic Games in Mexico City, engage in a victory stand protest against unfair treatment of black people in the United States. Their Australian co-medalist Peter Norman union with them by wearing an Olympic Project for Human Rights badge.