How bottled salt is made|Recovering lost Salt industry in Yantian: Hong Kong seawater produces good salt.

In the wake of the epidemic, many places worldwide are controlling the import and export of goods, reminiscent of the "rice, oil, salt, soy sauce, vinegar, and tea". Salt was once made in Hong Kong hundreds of years ago, and the long-lost technique has been revived at the Sai Kung Salt Farm. A visit to the salt farm reveals that while things have changed, the most rustic and primitive techniques still stand the test of time. The salt worker in charge of co-ordination, David Yip Chan Lap, has even written a "packet list" to show that the sea salt has passed international food safety standards, "to show people that most of Hong Kong's waters are of good quality and that with enough land and manpower, Hong Kong's seawater can produce good salt for Hong Kong people".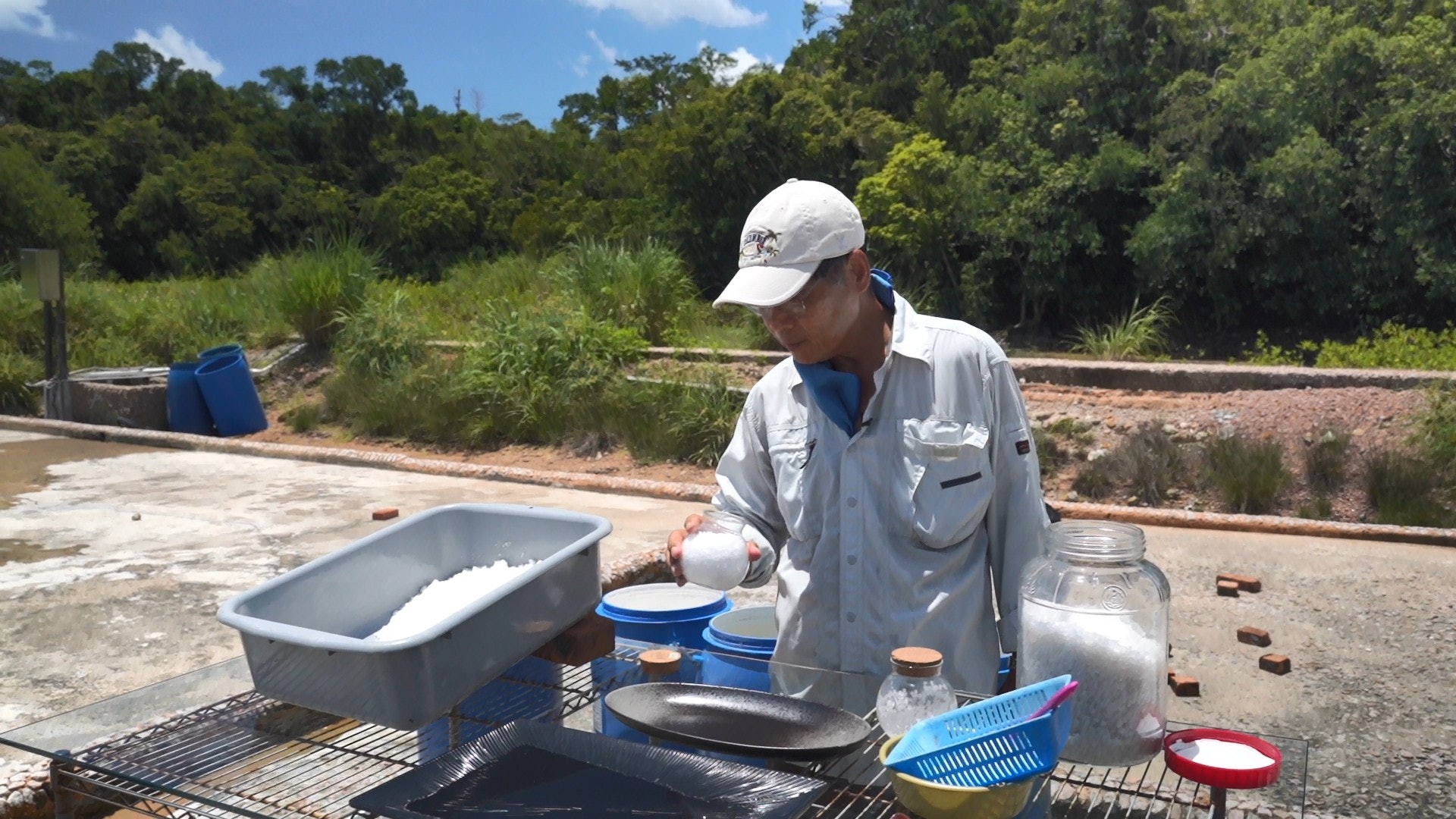 David recalled the difficulties at that time, so the Salt Conservation Centre sent people to the Mainland and Taiwan to study other traditional salt farms and bring back experience and information to rebuild the salt farm. David recalls the difficulties at that time.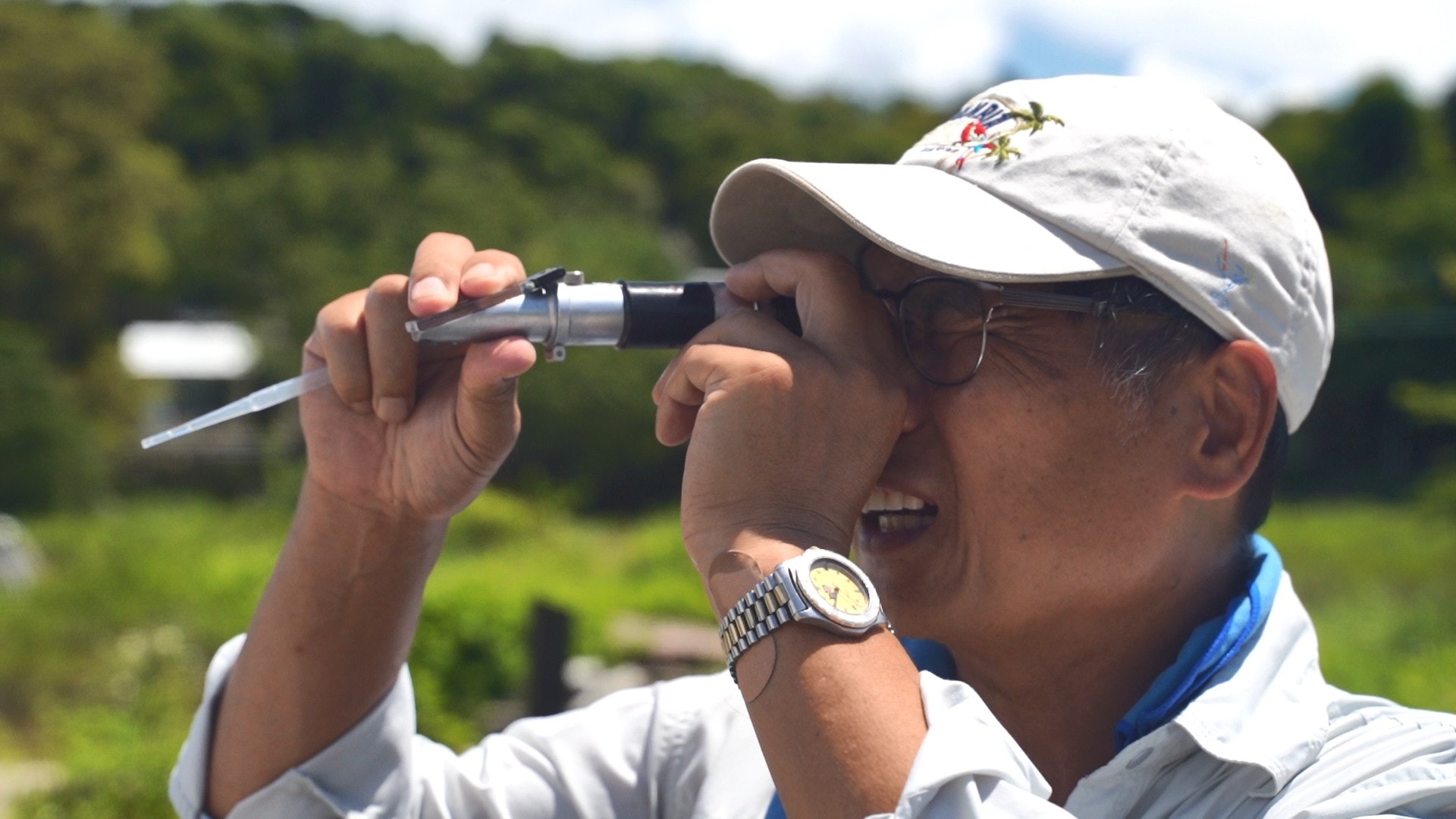 This telescope-like object called a "Boehmometer", which is used to test the salt concentration in seawater. Under the traditional water-drying method, seawater is pumped in batches to the higher pool one, where it is evaporated for two to three days, increasing salinity and precipitating impurities. "We will pour the brine into the crystallization pools when it reaches over 25 degrees".

David said that the sea salt has passed international food safety standards and "Hong Kong's seawater can produce good salt for Hong Kong people".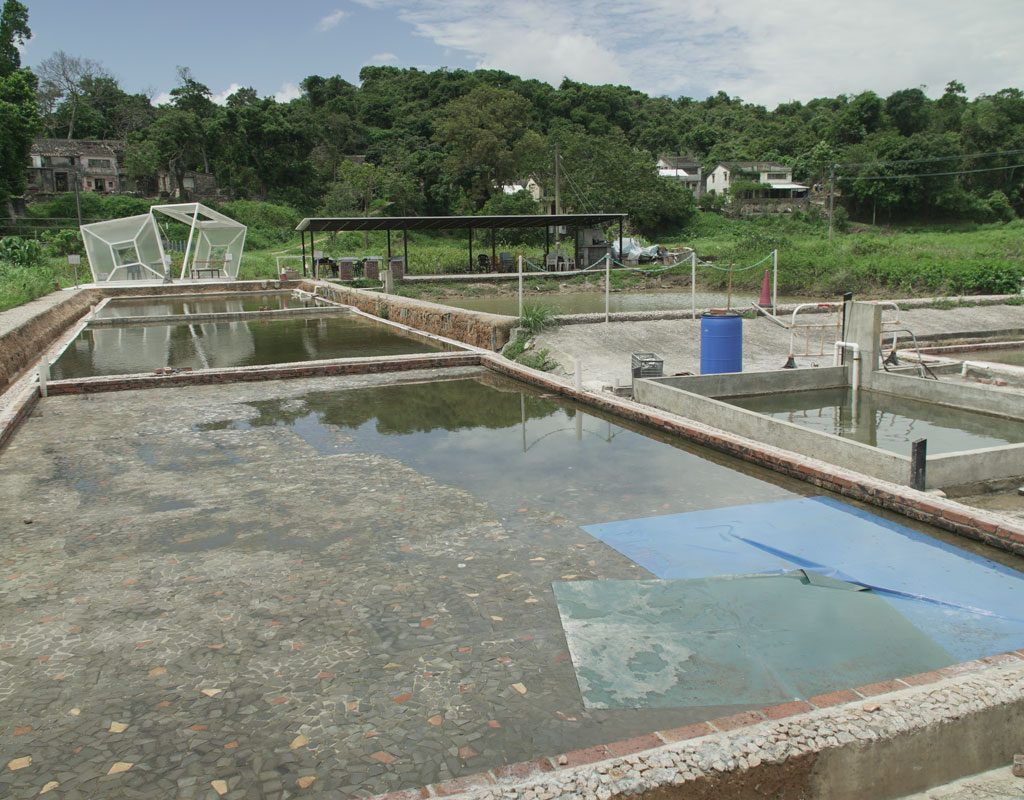 Traditional wisdom in salt production
The sea salt in Yan Tian is not made in a modern and rapid manner. Yet, the salt samples were tested to a higher standard than that set by the Codex Alimentarius Commission of the United Nations, a pearl of ancestral wisdom that has removed harmful impurities while retaining a large number of beneficial trace elements.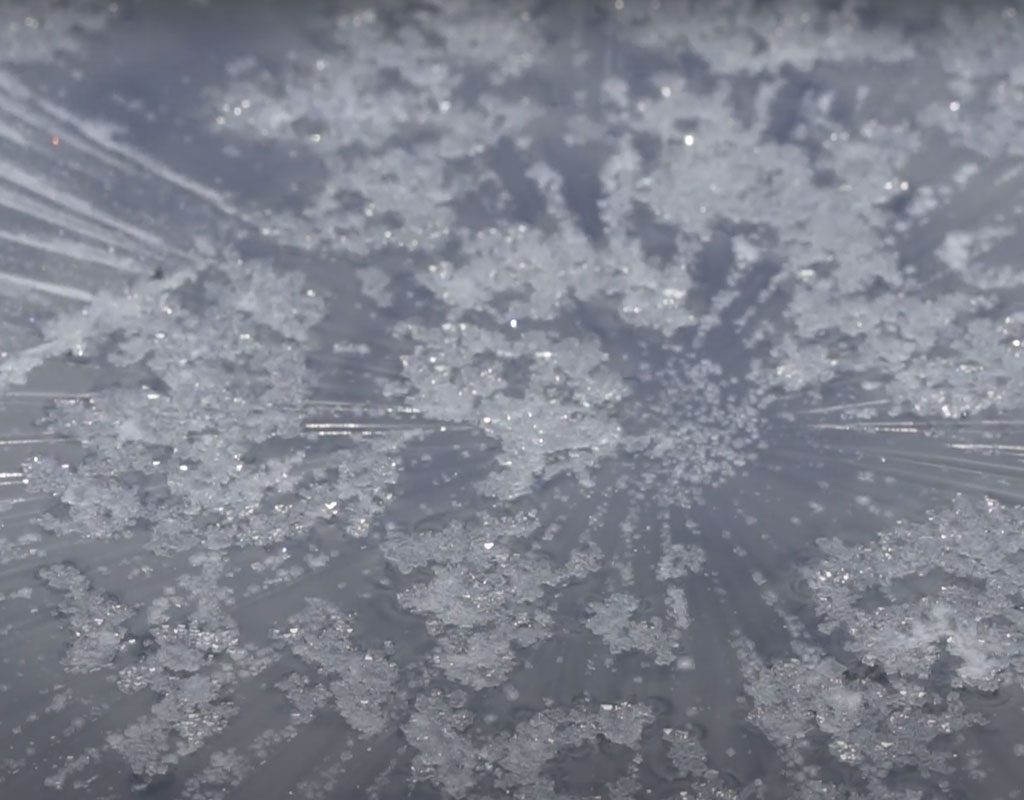 Hong Kong product is as good as French salt flower.
In addition to the laboratory report, the salt flower's taste here is also certified by Ah Cho's chef's tongue. The local salt made in Hong Kong is of a higher quality than the $200+ bottle of French sea salt, Fleur de sel, which he has at home: "We have it! Why do we have to use so much carbon emissions to get here? I was so shocked at that moment!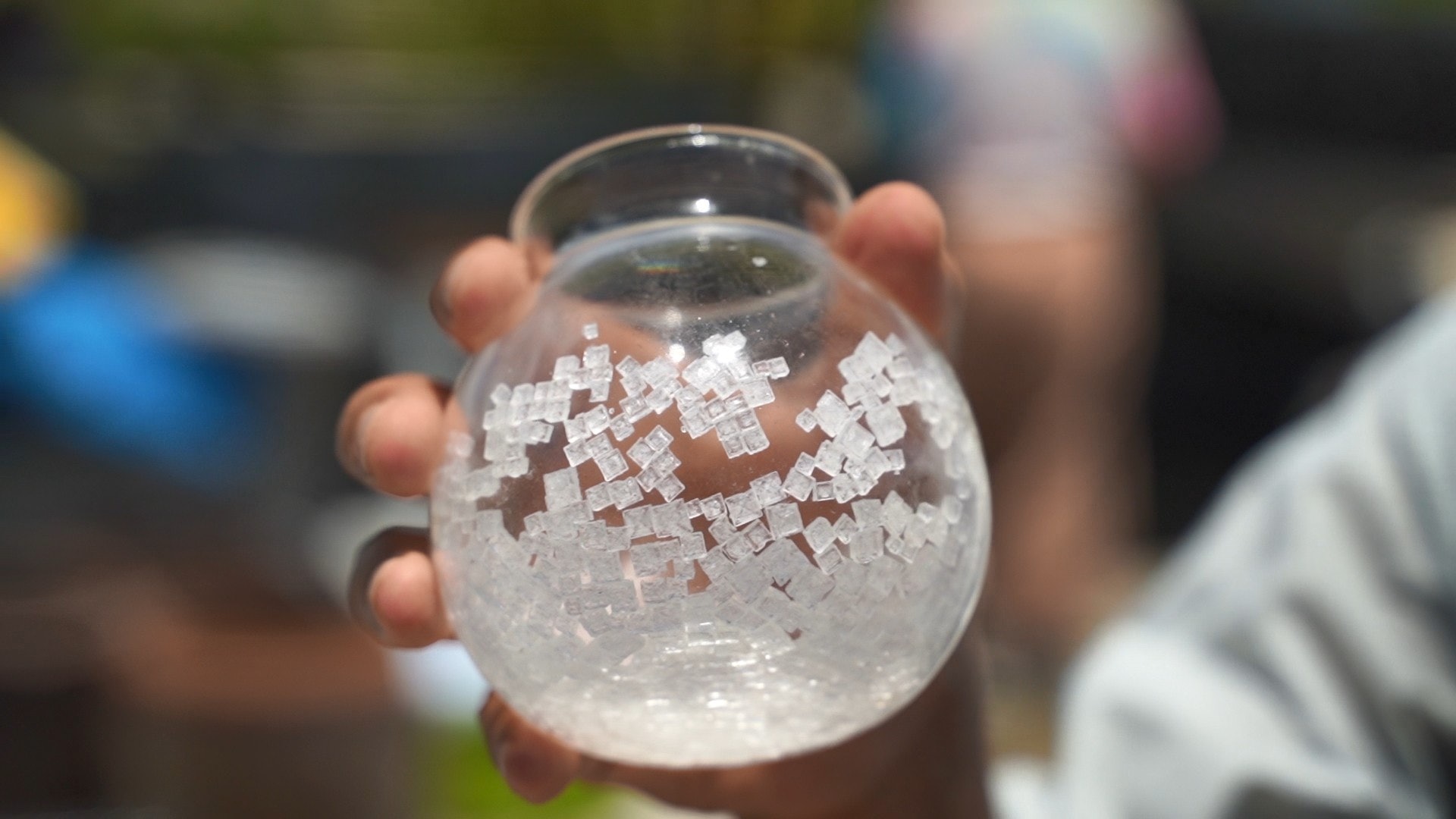 The salt fieldwork itself does not depend on technology, and while it is fun to produce salt on a sunny day, it is also a constant physical challenge. The salt workers are only David, Ah Chun, and the volunteers who have chosen to work as salt workers to pass on the salt to the next generation and preserve the salt field and the surrounding environment.
#HOMEISHONGKONG #CULTURE 
Reference:
https://www.andthen.hk/go/3231_%E6%A2%81%E7%A5%96%E5%A0%AF-%E9%B9%BD%E7%94%B0%E6%A2%93-%E6%B8%AF%E7%94%A2%E9%B9%BD%E7%9A%84%E5%91%B3%E8%A6%BA%E9%9C%87%E6%92%BC/
https://www.hk01.com/%E7%A4%BE%E6%9C%83%E6%96%B0%E8%81%9E/497069/%E6%A8%BD%E9%B9%BD%E6%98%AF%E6%80%8E%E6%A8%A3%E7%85%89%E6%88%90-%E5%BE%A9%E5%8E%9F%E6%B6%88%E5%A4%B1%E7%94%A2%E6%A5%AD-%E9%B9%BD%E7%94%B0%E6%A2%93%E9%B9%BD%E5%B7%A5-%E9%A6%99%E6%B8%AF%E6%B5%B7%E6%B0%B4%E4%BF%82%E5%87%BA%E5%88%B0%E9%9D%9A%E9%B9%BD
https://www.hk01.com/%E7%A4%BE%E6%9C%83%E6%96%B0%E8%81%9E/497069/%E6%A8%BD%E9%B9%BD%E6%98%AF%E6%80%8E%E6%A8%A3%E7%85%89%E6%88%90-%E5%BE%A9%E5%8E%9F%E6%B6%88%E5%A4%B1%E7%94%A2%E6%A5%AD-%E9%B9%BD%E7%94%B0%E6%A2%93%E9%B9%BD%E5%B7%A5-%E9%A6%99%E6%B8%AF%E6%B5%B7%E6%B0%B4%E4%BF%82%E5%87%BA%E5%88%B0%E9%9D%9A%E9%B9%BD
https://www.betterme-magazine.com/%E9%80%B1%E6%9C%AB%E5%A4%96%E5%87%BA/%E9%A6%99%E6%B8%AF%E8%A3%BD%E7%9A%84%E9%B9%BD/
https://www.discoverhongkong.com/tc/explore/great-outdoor/hong-kong-little-salt-pan-yim-tin-tsai.html